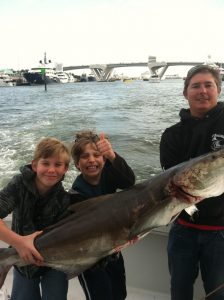 A lot of great fish are moving through Ft Lauderdale right now.  Sailfish, Sharks, Amberjacks, Mahi-Mahi, Tuna, Wahoo, Grouper and More.  As we come into the Spring fishing season, fishing really lights up for us in Ft Lauderdale.  The best bite this week has been Sailfish.  Sailfishing in Fort Lauderdale this week is phenomenal.  Every trip has either caught one or more sailfish, or at least had one or more on the line.  Sailfish are never a sure thing, but they sure are biting like it.  Mahi-mahi schools are also inhabiting the reefs.  We're trolling out to and in from fishing grounds and hitting schools of mahi-mahi.  Some of them are very nice size in the 20 pound plus class.  March is a great month for the larger mahi-mahi, as is April.
Sharks are here and they are biting with a vengence.  Hammerheads are leading the shark train, big female hammerheads in the 6-10 ft range.  We've caught a couple hammerheads this week over 300 pounds.  Shark fishing season is just beginning and it's starting off splendidly.  Some dusky sharks, black tips and sand bar sharks are also coming through our waters… we're catching a few of them too.  There have already been a few exotic sharks such as mako and thresh sharks seen this week, which is a good sign that the shark concentration in Ft Lauderdale is increasing.  For the next few months, big game shark fishing will be a daily thing in Ft Lauderdale.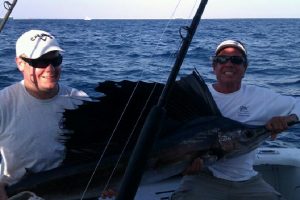 Decent action on the wrecks this week too.  Some big cobia schools are showing up on some of the better wrecks that we fish.  Also some of the deep water groupers are biting.  Jack fish are moving onto these artificial reefs and wrecks too and they will soon dominate the wrecks with their numbers.  We're getting into Ft Lauderdale's best fishing season and big game fish are starting to snap.  Good Luck fishing this month everyone.