A 300 pound mako shark was caught today on a shark fishing charter. We set up in 350ft of water with a bottom, mid-depth and surface shark bait set. We were fishing for about an hour with no action, when suddenly a giant mako shark jumps 10 feet in the air about 50 feet from the back of the boat. The mako had eaten the middle bait, and the instead of diving deep with the bait, he had attacked it and swam straight up to the surface. The balloon, which acts as a bobber to keep the bait set at the specific depth, never moved.
Capt Adam was on the wheel and he immediately threw the boat in full forward and yelled at the angler to reel on it hard and fast, trying to get the slack out of the line as quickly as possible. As soon as we came back tight on the fish, he dove deep. We knew it was a mako we were hooked up to and we were excited. This was the first mako we've caught in over a year at least, and we've only seen 1 or 2 caught among the entire fleet this shark fishing season. Mako's are a cold water shark, mainly inhabiting the Northeast Atlantic. They are actually quite common to catch in New England, but for us in South Florida they are rare.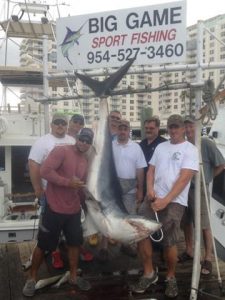 After an hour long fight we got the fish to within 50 ft of the surface. Makos are one of the only sharks that jump high out of the water, one of their exciting attributes. On the bite, this fish jumped at least 10 feet in the air, but he never jumped again the entire fight. We were excited about catching this mako, so we were ready when the fish came up. Adam came down from the flybridge and grabbed the harpoon. He stood up on the covering board, took aim for brief second and threw. Perfect shot right through upper right shoulder. You can see the cord from the dart still sticking out of the fish.
We were on a shark fishing charter, so we kept fish. Another half hour of fishing and we had on our second big shark of the day, this time a hammerhead. The hammerhead was also a big shark, an 8 and a half footer. We caught him in just 45 mins and estimated him at 200 pounds. In addition to the 2 sharks, we also caught a half dozen tile fish and a few bonitos that we traded up for much bigger game. A great Fort Lauderdale shark fishing charter! It's a great time of year for fishing, so if you want to catch some big game fish, now is the time to go fishing. Tight Lines,
Capt. Rod Roydhouse
954-707-2147